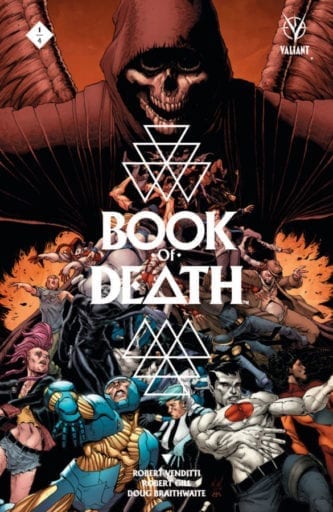 Leer Comic Book of Death Volumen 1
Idioma: Español
Editorial: Valiant Comics
Formato : CBR
"Un cobarde muere mil veces antes de su muerte, pero el valiente saborea la muerte sólo una vez."Los héroes de Valiant. X-O Manowar. Bloodshot. Ninjak. Los Renegados Harbinger. Unity. Así es como vivieron.
Así es como murieron.Ahora sabemos. El Libro de la Muerte lo ha registrado todo. Pero sólo una joven niña – la última en una línea de enigmáticos místicos quienes protegen la Tierra conocidos como Geomantes – ha visto suceder este futuro, desde el venidero cataclismo hasta el amanecer del siglo 41.
Sola junto a su jurado protector, el Eternal Warrior – el soldado forjado en batalla a lo largo de cinco mil años de combate – el dúo debe desafiar a sus aliados para detener la Era Oscura que ahora amenaza con eclipsar nuestro mundo.
Juntos, son el objetivo número uno de cada héroe y villano en la Tierra. O el Eternal Warrior la entrega…o ellos lo eliminan. ¿Pero puede él proteger sin ayuda a una niña cuando todo el Universo Valiant le hace la guerra?
  Leer Comic Book of Death Volumen 1
Izicomics te trae los mejores comics, mangas y libros completos en español, aquí podrás disfrutar de los mejores comics. Recuerda que puedes leer todos los comics completos de Valiant Comics y de muchas otras editoriales y sus personajes.
Este comic lleva como nombre "Book of Death Volumen 1" y está en formato CBR y en español.
¡Si te Gusto el Contenido no dudes Compartir con tus amigos en las redes sociales!
Book of Death Volumen 1 (12 de 12)
¡Haz clic para puntuar esta entrada!