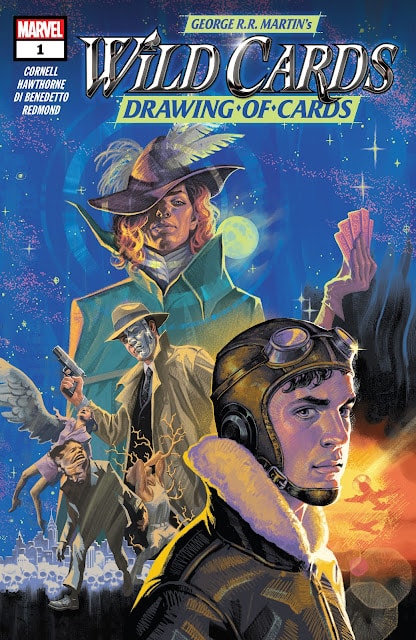 Descargar Comic Wild Cards The Drawing of Cards
Idioma: Español
Editorial: Marvel Comics
Formato : CBR
Cuando un ser humano se infecta con el virus alienígena «Wild Card», lo más probable es que lo maten… lo que se conoce como «atraer a la reina negra». De los que sobreviven, la mayoría se convierten en «bromistas», que quedan con una extraña forma mutada.
Unos pocos afortunados son llamados «ases», aquellos dotados de superpoderes que pueden usar para objetivos de héroes… o villanos. Ahora, por primera vez en forma de cómic, vea cómo comenzó el universo de Wild Cards con una adaptación de las primeras historias de la novela Wild Cards original.
Comics en CBR Wild Cards The Drawing of Cards
Izicomics te trae los mejores comics, mangas y libros completos en español, aquí podrás disfrutar de los mejores comics. Recuerda que puedes leer todos los comics completos de Marvel Comics y de muchas otras editoriales y sus personajes.
Este comic lleva como nombre "Wild Cards The Drawing of Cards» y está en formato CBR y en español.
¡Si te Gusto el Contenido no dudes Compartir con tus amigos en las redes sociales!
Wild Cards The Drawing of Cards [1/1??] >
¡Haz clic para puntuar esta entrada!