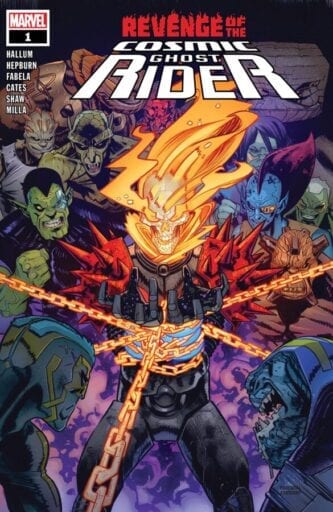 Comic en CBR Revenge of the Cosmic Ghost Rider Volumen 1
Idioma: Español
Editorial: Marvel Comics
Formato : CBR
¡El Jinete Fantasma Cósmico ha vuelto, nena! Pero con una reputación como la suya, es sólo cuestión de tiempo antes de que la ley alcance al futuro Frank Castle e intente encadenarlo – muy mal para la ley, las cadenas son las armas preferidas de Castle en estos días.
Ahora en una prisión intergaláctica, el Jinete va a convertir su jaula en un combate de jaula completo! ¿Quién será el último alienígena en pie? Descúbrelo en esta nueva miniserie de Dennis "Hopeless" Hallum (MARVEL'S SPIDERMAN: CITY AT WAR) y Scott Hepburn (DEADPOOL)!
Además, no te pierdas una nueva historia corta de los chicos que empezaron todo, Donny Cates (ABSOLUTE CARNAGE) y Geoff Shaw (GUARDIANES DE LA GALAXIA)!
Descargar comics Revenge of the Cosmic Ghost Rider Volumen 1
Izicomics te trae los mejores comics, mangas y libros completos en español, aquí podrás disfrutar de los mejores comics. Recuerda que puedes leer todos los comics completos de Marvel Comics y de muchas otras editoriales y sus personajes.
Este comic lleva como nombre "Revenge of the Cosmic Ghost Rider Volumen 1" y está en formato CBR y en español.
¡Si te Gusto el Contenido no dudes Compartir con tus amigos en las redes sociales!
Revenge of the Cosmic Ghost Rider Volumen 1 (5 de 5)
¡Haz clic para puntuar esta entrada!