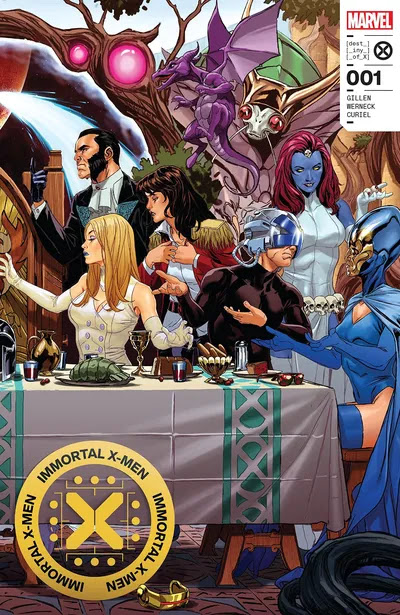 Descargar Comic Immortal X-Men
Idioma: Español
Editorial: Marvel Comics
Formato : CBR
¡NADIE PUEDE OÍRTE GRITAR EN EL CONSEJO SILENCIOSO! Para bien o para mal, el Consejo Silencioso está a cargo de la era krakoana. Ahora, traumatizados por INFERNO y X VIDAS DE WOLVERINE / X MUERTES DE WOLVERINE, luchan por permanecer juntos a pesar de su deseo de separarse.
Kieron Gillen (UNCANNY X-MEN, ETERNALS, The Wicked + The Divine, Die) y Lucas Werneck (X-MEN: EL JUICIO DE MAGNETO) regresan al universo de X para llevarnos a todos a la habitación donde sucede.
«Eso» se refiere a «las personas más poderosas del mundo eligiendo el destino de todo el planeta». Prepárate para la revelación de secretos malignos, y aprende que algunos secretos son más siniestros que otros…
Comics en CBR Immortal X-Men
Izicomics te trae los mejores comics, mangas y libros completos en español, aquí podrás disfrutar de los mejores comics. Recuerda que puedes leer todos los comics completos de Marvel Comics y de muchas otras editoriales y sus personajes.
Este comic lleva como nombre "Immortal X-Men» y está en formato CBR y en español.
¡Si te Gusto el Contenido no dudes Compartir con tus amigos en las redes sociales!
¡Haz clic para puntuar esta entrada!