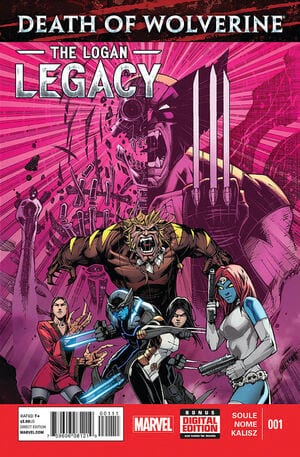 Descargar Comic Death of Wolverine: The Logan Legacy
Idioma: Español
Editorial: Marvel Comics
Formato : CBR
Wolverine, el mejor X-Man de todos los tiempos, está muerto! ¡Con esta potencia mutante ahora permanentemente fuera de escena, varias facciones tanto del bien como del mal están luchando para llenar el vacío dejado por la muerte de Logan!
¿El legado de Wolverine estará formado por héroes que lucharon valientemente junto a él… o por esos villanos lo suficientemente traicioneros como para haberlo desafiado durante los muchos años de su larga vida?
¡Las respuestas se revelarán en esta serie especial limitada de 7 números que gira directamente de la mega-popular MUERTE DE WOLVERINE! ¡Esta serie presentará aventuras únicas en solitario de varias figuras instrumentales en la formación del Legado de Logan: X-23, Sabretooth, Daken, Lady Deathstrike y Mystique!
Comics en CBR Death of Wolverine: The Logan Legacy
Izicomics te trae los mejores comics, mangas y libros completos en español, aquí podrás disfrutar de los mejores comics. Recuerda que puedes leer todos los comics completos de Marvel Comics y de muchas otras editoriales y sus personajes.
Este comic lleva como nombre "Death of Wolverine: The Logan Legacy" y está en formato CBR y en español.
¡Si te Gusto el Contenido no dudes Compartir con tus amigos en las redes sociales!
Death of Wolverine: The Logan Legacy [7/7]
¡Haz clic para puntuar esta entrada!