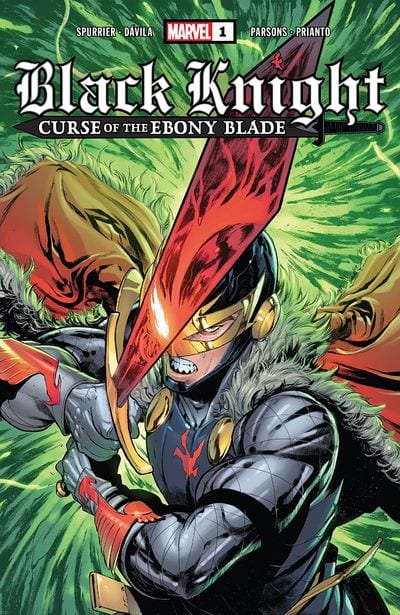 Descargar Comic Black Knight: Curse Of The Ebony Blade
Idioma: Español
Editorial: Marvel comics
Formato : CBR
EL CABALLERO MÁS GRANDE DE ELLOS ¡VUELVE A MONTAR! Dane Whitman es el CABALLERO NEGRO y portador de la mágica EBONY BLADE, pero el poder de la espada tiene un precio terrible. Dane lleva para siempre el peso de su maldición: un ansia insaciable de sangre y caos que constantemente amenaza con tragarse a su dueño en la oscuridad.
¿Debe ser ese el destino de Dane? Tras la batalla contra el REY DE NEGRO, un danés revitalizado tiene un mayor sentido de propósito que nunca. Pero su espada es la clave del malvado plan de un nuevo enemigo y solo el Caballero Negro puede evitar la muerte y la destrucción venideras.
¡Este conflicto que abarca al mítico Camelot hasta la ciudad de Nueva York de hoy en día pondrá a prueba a Dane como nunca antes y desafiará todo lo que cree sobre sí mismo, Ebony Blade y toda la historia del Caballero Negro! Invitado protagonizado por los AVENGERS!
Comics en CBR Black Knight: Curse Of The Ebony Blade
Izicomics te trae los mejores comics, mangas y libros completos en español, aquí podrás disfrutar de los mejores comics. Recuerda que puedes leer todos los comics completos de Marvel comics y de muchas otras editoriales y sus personajes.
Este comic lleva como nombre "Black Knight: Curse Of The Ebony Blade" y está en formato CBR y en español.
¡Si te Gusto el Contenido no dudes Compartir con tus amigos en las redes sociales!
Black Knight: Curse Of The Ebony Blade [1/6]
¡Haz clic para puntuar esta entrada!