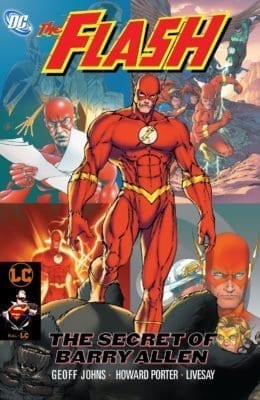 Ver Comics The Flash: El Secreto de Barry Allen
Idioma: Español
Editorial: DC Comics
Formato : CBR
En esta historia, además de la influencia del "trato" de Wally con The Spectre, Flash hace equipo con Nightwing para enfrentar a Gorilla Grodd; y, fundamentalmente, se revela una oscura decisión del pasado de Barry Allen, que lleva a Wally a tomar decisiones difíciles por su cuenta.
El tomo recopila los comics The Flash # 207-211 y # 213-217.
Esta historia es considerado como un tie-in de "Crisis de Indentidad" ambos comics deben leerse en paralelo a los efectos de su reciproca complementación
   Comics Online The Flash: El Secreto de Barry Allen
Izicomics te trae los mejores comics, mangas y libros completos en español, aquí podrás disfrutar de los mejores comics. Recuerda que puedes leer todos los comics completos de DC Comics y de muchas otras editoriales y sus personajes.
Este comic lleva como nombre "The Flash: El Secreto de Barry Allen" y está en formato CBR y en español.
¡Si te Gusto el Contenido no dudes Compartir con tus amigos en las redes sociales!
The Flash: El Secreto de Barry Allen (1 de 1)