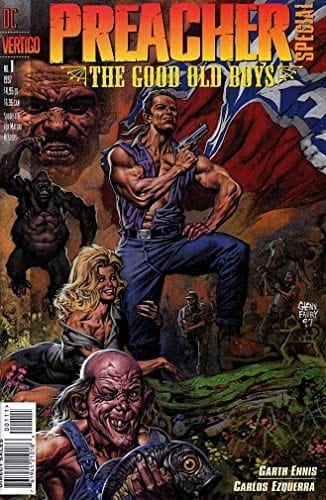 Leer Comic Preacher: The Good Old Boys
Idioma: Español
Editorial: DC Comics – Vertigo
Formato : CBR
Una barrabasada protagonizada por Jody y T.C. (de la historia Todo queda en familia). Humor enlatado y nula influencia en el trascurso de la serie. Dibuja Carlos Ezquerra.
  Leer Comic Preacher: The Good Old Boys
Izicomics te trae los mejores comics, mangas y libros completos en español, aquí podrás disfrutar de los mejores comics. Recuerda que puedes leer todos los comics completos de DC Comics – Vertigo y de muchas otras editoriales y sus personajes.
Este comic lleva como nombre "Preacher: The Good Old Boys" y está en formato CBR y en español.
¡Si te Gusto el Contenido no dudes Compartir con tus amigos en las redes sociales!
Preacher: The Good Old Boys (1 de 1)