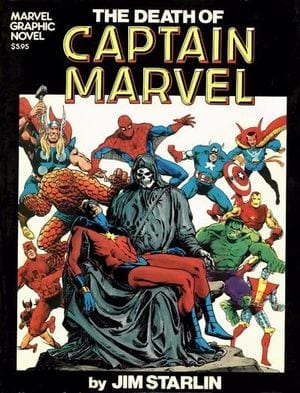 Ver Comic The Death of Captain Marvel
Idioma: Español
Editorial: Marvel Comics
Formato : CBR

Como Protector del Universo y defensor de facto de la Tierra, el Capitán Kree Mar-Vell ha triunfado sobre enemigos grandes y pequeños. Pero cuando Mar-Vell es diagnosticada con cáncer, se encuentra cara a cara con un enemigo que incluso su gran poder no puede vencer, y tanto él como un universo que lo ama deben reunirse para aceptar lo inevitable.
Además: recuerda la batalla seminal con Nitro que infectó al Capitán Marvel años atrás, y en medio de una batalla con el sistema informático del planeta de Titán, ahora corrompido por la locura de Thanos, presencia el incipiente romance entre Mar-Vell y su verdadero amor Elysius! ¡Invitado con los Avengers, los X-Men, los Fantastic Four y más!
Marvel Comics The Death of Captain Marvel
Publicada como una novela gráfica a medida en noviembre de 1982, The Death Of Captain Marvel es un momento decisivo para los comics de la corriente principal, ya que este poderoso cruzado cósmico, sus amigos y seres queridos, critica y luego acepta su paso lento y poco glorioso.
No puedes perderte esta gran historia la cual protagoniza uno de los personajes menos conocidos pero igual de importantes en el universo de marvel.
Izicomics te trae los mejores comics completos en español, aquí podrás disfrutar de los mejores comics. Recuerda que puedes leer todos los comics completos de Marvel Comics y de muchas otras editoriales y sus personajes. Este comic lleva como nombre "The Death of Captain Marvel" y está en formato CBR y en español.
¡Si te Gusto el Contenido no dudes Compartir con tus amigos en las redes sociales!
[sociallocker id=307][/sociallocker]
Realiza tu pedido por acá!