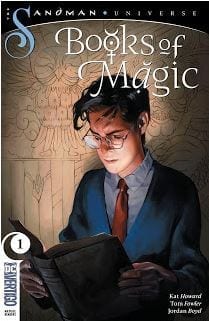 ✅ The Books of Magic 2018 Comic en Español
Idioma: Español
Editorial: Vertigo Comics
Formato: CBR
Resumen
Descargar Comic The Books of Magic : Puede que Timothy Hunter esté destinado a convertirse en el mago más poderoso del universo, pero sigue siendo un adolescente de Londres, y tener habilidades mágicas complica las cosas más de lo que ayuda. No es como si pudiera usar magia para aprobar sus exámenes, dejar de ser intimidado o convencer a su lindo amigo para que salga con él.
Y mientras Tim está tratando de vivir su vida, hay sectas que quieren matarlo, creyendo que su poder eventualmente lo corromperá para que se convierta en un mago despiadado. Oh, y esos son los buenos. Afortunadamente, su nueva maestra sustituta es más de lo que parece, y puede ayudar a Tim a descubrir el misterio detrás de los Libros de Magia.
✅ También puedes Leer:
⚡Leer comic The Books of Magic Online
Izicomics te trae los mejores comics completos en español, aquí podrás disfrutar de los mejores comics. Recuerda que puedes descargar todos los comics completos de Vertigo Comics y de muchas otras editoriales y sus personajes. Este comic lleva como nombre "The Books of Magic" y está en formato CBR y en español. Si te Gusto el Contenido no dudes Compartir con tus amigos en las redes sociales.
No olvides Descargar The Books of Magic Completo
---