Last Updated on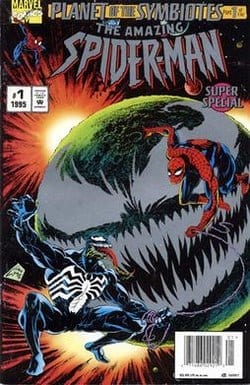 Ver Comic Planet of the Symbiotes
Idioma: Español
Editorial: Marvel Comics
Formato : PDF

Resumen
Descargar Comic Planet of the Symbiotes: Mientras se asoció con Spider-Man contra un grupo terrorista, Brock se da cuenta de que el simbionte lo está influenciando para matar. Spider-Man intenta convencer a Eddie de que abandone el simbionte culpándolo por la locura de Brock. Brock obliga al simbionte a dejarlo, para permitirle pensar sobre la situación sin influencias. Enojado por el rechazo, el simbionte desata un poderoso grito telepático que atrae a la Tierra a una nave espacial de otros simbiontes.
Continuando en el mismo tema, los simbiontes comienzan a poseer civiles al azar y cometer asesinatos. Brock, creyendo que su simbionte tiene la culpa, se une a Spider-Man y Scarlet Spider
 para investigar. Finalmente descubren que los simbiontes están creando una máquina masiva de componentes de la Tierra robados. Los tres se involucran con los simbiontes pero se sienten abrumados. Se revela que Scarlet Spider lleva un simbionte, que arrastra a los tres a través de la máquina.
Marvel Comics Planet of the Symbiotes
" Planet of the Symbiotes " es un cuento de cinco historietas escrito por David Michelinie y publicado por Marvel Comics en 1995. El arco abarcó las cinco ediciones "Super Special # 1" de los títulos de Spider-Man disponibles en ese momento: The Amazing Spider-Man , Spider-Man , The Spectacular Spider-Man , Venom y Web of Spider-Man . La trama continuó una narrativa publicada por primera vez en la serie limitada de cuatro partes Venom: Separation Anxiety (1994) donde la duda se coloca en la mente de Eddie Brocksobre quién tiene el control de la relación entre él y el simbionte Venom sensible que le otorga sus poderes.
No olvides Descargar el Comic Gratis
---
Aquí abajo te presentamos todos los capitulos
Comic Planet of the Symbiotes: