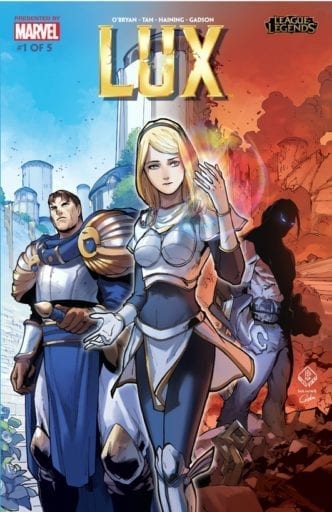 Leer Comic League of Legends: Lux Volumen 1
Idioma: Español
Editorial: Marvel Comics
Formato : PDF
El reino está a salvo y la gente está feliz… a menos que seas un mago. Luxanna debe ocultar quién es realmente. Pero cuando busca a un mago encarcelado para aprender a controlar su magia, ¿se protegerá a sí misma… o condenará a Demacia?
  Leer Comic League of Legends: Lux Volumen 1
Izicomics te trae los mejores comics, mangas y libros completos en español, aquí podrás disfrutar de los mejores comics. Recuerda que puedes leer todos los comics completos de Marvel Comics y de muchas otras editoriales y sus personajes.
Este comic lleva como nombre "League of Legends: Lux Volumen 1" y está en formato PDF y en español.
¡Si te Gusto el Contenido no dudes Compartir con tus amigos en las redes sociales!
League of Legends: Lux Volumen 1 (5 de 5)