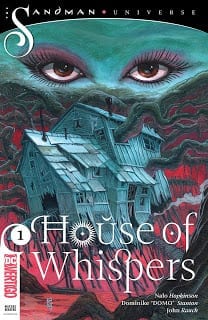 ✅ House of Whispers Comic en CBR
Idioma: Español
Editorial: Vertigo Comics
Formato: CBR
Descargar Comic House of Whispers: Se ha añadido una nueva esquina al Universo Sandman de Neil Gaiman. Bienvenidos a la Casa de Dahomey, la casa flotante de Erzulie Fréda, donde las almas de los seguidores del vudú van cuando duermen para suplicar a la coqueta y trágica diosa que les conceda los deseos de su corazón y les aconseje sobre su futuro y fortuna. Cuando llegues, encontrarás una fiesta en pleno apogeo, llena de todo tipo de gente fabulosa y feroz, mientras los peces se fríen y la música explota.
Desde su pantano, Erzulie se adentra en el reino de los mortales y ve a cuatro chicas humanas abrir un misterioso y mágico diario lleno de susurros y rumores que, si se propagan, podrían causar una pandemia como no se ha visto en la Tierra, con el poder de liberar a Sopona, el loa lord de las enfermedades infecciosas y primo de Erzulie, que en la actualidad está prohibido en el plano humano. Pero incluso la temible Erzulie no puede ser de ayuda cuando el río de sus sueños se vuelve tumultuoso, arrojando su casa de su reino y convirtiéndola en otra.
✅ También puedes Leer:
⚡Leer comic House of Whispers Online
Izicomics te trae los mejores comics completos en español, aquí podrás disfrutar de los mejores comics. Recuerda que puedes descargar todos los comics completos de DC Comics y de muchas otras editoriales y sus personajes. Este comic lleva como nombre "House of Whispers " y está en formato CBR y en español. Si te Gusto el Contenido no dudes Compartir con tus amigos en las redes sociales.
No olvides Descargar House of Whispers Completo
---