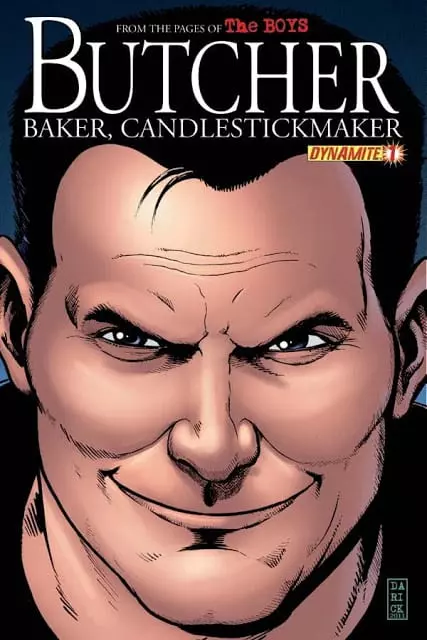 Comic en CBR The Boys: Butcher, Baker, Candlestickmaker
Idioma: Español
Editorial: Dynamite
Formato : CBR
Por fin, la historia de Billy Butcher, el misterioso líder de The Boys. De las callejuelas del East End de Londres, a la carnicería de la guerra de Malvinas, desde las alturas del amor hasta lo más profundo de la tragedia, el hombre más violento en los cómics revela la terrible naturaleza de las fuerzas que lo impulsan.
Y cuando todo esto termine, él estará listo… para terminar las cosas de una vez por todas. "Esta es la historia que he estado esperando contar desde el inicio de The Boys," dice el escritor Garth Ennis. "Una buena mirada larga y preocupante en la oscuridad." "Esta miniserie es esencial para The "Boys legado", dice el artista Darick Robertson.
"El guión es uno de los mejores de Garth Ennis, (personalmente mi favorito ya que nuestro trabajo conjunto desde Punisher: Born). Que responde a muchas preguntas acerca de quién es Butcher y por qué es como es. Es desgarrador, y sin embargo tiene el tipo de acción y humor que se espera de nosotros dos. Si eres un fan de la serie, esta es la historia que has estado esperando!
Descargar comics The Boys: Butcher, Baker, Candlestickmaker
Izicomics te trae los mejores comics, mangas y libros completos en español, aquí podrás disfrutar de los mejores comics. Recuerda que puedes leer todos los comics completos de Dynamite  y de muchas otras editoriales y sus personajes.
Este comic lleva como nombre "The Boys: Butcher, Baker, Candlestickmaker" y está en formato CBR y en español.
¡Si te Gusto el Contenido no dudes Compartir con tus amigos en las redes sociales!
The Boys: Butcher, Baker, Candlestickmaker [6/6]
¡Haz clic para puntuar esta entrada!